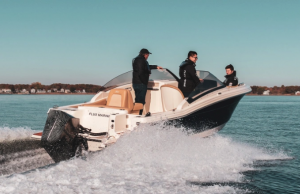 Flux Marine will leverage the Series A funding to scale operations, manufacturing and distribution as it advances its award-winning zero-emission electric outboard motors to market.
"Our innovative ground-up design is an entirely new efficient electric propulsion system rather than a retrofit of electric vehicle components into a typical outboard casing. By reimagining the outboard motor, we're delivering the performance boaters expect, while eliminating the pollution and minimizing the noise and maintenance owners have come to accept from traditional outboards," said Ben Sorkin, CEO of Flux Marine.
Read the full press release here and TechCrunch article here.
Image credits: Flux Marine